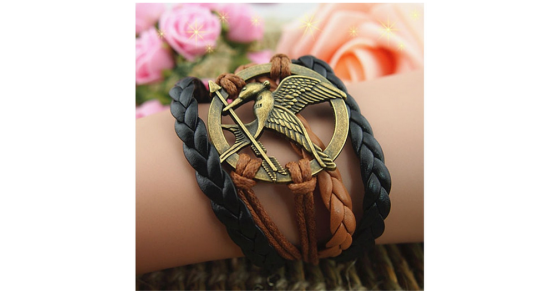 I was browsing a jewelery website for deals and came across this amazing Hunger Games bracelet for only $14.95 plus free shipping! The weird thing is that the description says it is from Harry Potter. But it's obviously the Mockingjay! It's normally $26.95 but on sale today for only $14.95.
The site calls it a "Vintage Brass Wing and Arrow Braided Leather Bracelet." It looks like it is interwoven with both black and brown leather. If you look around the site, you'll find a couple of others that have the same Mockingjay in the middle bit different colors of leather (black and white or pink and blue).
These would be perfect to buy now and put aside for when the Mockingjay movie comes out later this year. We've heard a trailer will be coming soon, so the hype will definitely be starting!
Grab it quick from EverMarker before the sale ends!
Get Free Hunger Games Email Updates