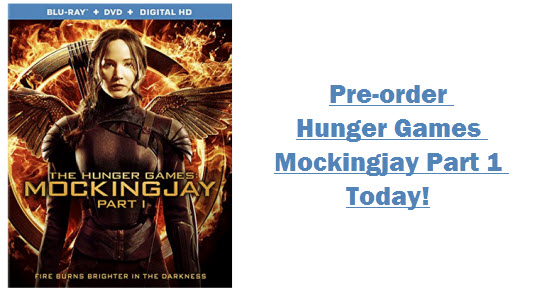 If you want to be among the first to see The Hunger Games: Mockingjay Part 1 when it comes out on DVD, get your order placed now. It will be released on March 6 and if you pre-order, you will receive it the day it comes out if you choose Two-Day shipping (which is free with Prime).
Buying can be a little bit confusing because there are different versions available, ranging in price from $14.99 to $19.99.
Amazon has the DVD + Digital Copy for $17.75 and the Blu-ray + DVD + Digital HD for $19.97. If you order them and the price goes down before the release, Amazon will only charge you the reduced price.
Another option is to pre-order the digital version only. You can get the SD format for $14.99 or HD for $19.99. With that you can download it to 2 locations or stream it via Amazon Instant Video.
Right now it is the #1 Best Seller on Amazon in Action & Adventure Blu-ray Discs so it looks like it is going to be a hot seller!
Will you be ordering it?
Get Free Hunger Games Email Updates