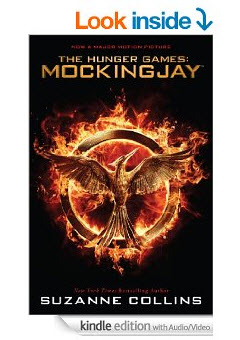 A new paperback edition of Mockingjay is now available at Amazon. The new version features the blazing Mockingjay image on the cover. The book is the same as the original version, but the cover is just much cooler. The paperback sells for $11.11 and you can get free shipping with Amazon Prime.
There is also a second new paperback available called the "Foil Edition" which has a shiny cover with a picture of the Mockingjay symbol (not on fire) on it. It is selling for $10.59.
In addition, a new Kindle Edition with Audio/Video is available as of this week. You can get it for $7.66 even if you do not have a Kindle. You can download the Kindle Reading App for free and use it on just about any smartphone, tablet, or computer.
Visit Amazon to check out all of the new Mockingjay editions.
Get Free Hunger Games Email Updates