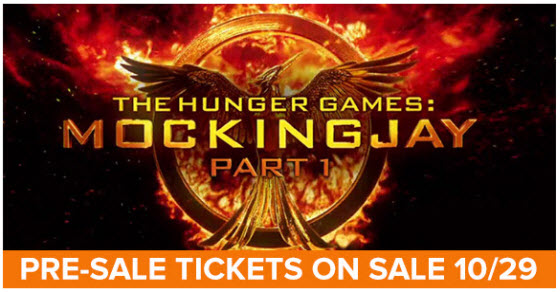 The Hunger Games: Mockingjay tickets are finally on sale! Fandango is running a couple of really cool special offers if you buy your tickets right now.
October 29 at noon Eastern: When you purchase Mockingjay Part 1 tickets through Fandango in the first 24 hours you will also get a free movie download of The Hunger Games: Catching Fire. Plus, you will get a sweepstakes entry to win a trip to the world premiere of Mockingjay.
October 30-December 12: Even if you missed the one day only deal, you can still win! Purchase your tickets through Fandango and you will be entered to win a 2015 Mazda3.
Plus, through November 7 you can submit your artwork for a chance at having your design featured on one of Fandango's Hunger Games Gift Cards!
Don't forget that Mockingjay opens in movie theaters everywhere on November 21.
Get Free Hunger Games Email Updates