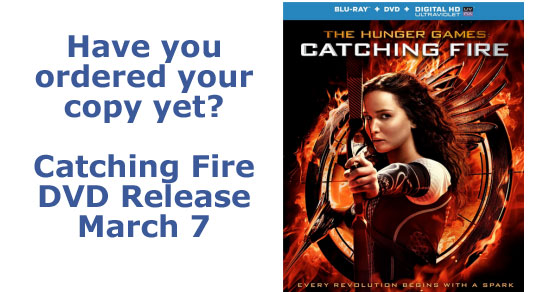 Hunger Games: Catching Fire is about to be released on DVD and Blu-Ray! Do you have your copy ordered yet?
Amazon has 2 different options. The DVD comes with an UltraViolet Digital Copy for $15.99. The better deal is the DVD/Blu-ray Combo + UltraViolet Digital Copy for $19.99. Both come with their Pre-order Price Guarantee that if the price falls between now and when it ships, you will get the lower price. I've had this happen to me a couple of times.
Looking around, these seem to be the best prices. BestBuy is selling them for $17.99 and $22.99. Walmart has the DVD for $17.99 but the Blu-ray for $19.96. For 3 cents difference, you are better off ordering from Amazon because their shipping is more reliable.
Hopefully Amazon will offer something where if you buy it from them you can also watch it digitally for free. We saw that happen with other similar movies like Twilight but we haven't heard anything so far.
Have you pre-ordered your copy? Will you be watching Catching Fire this weekend?
Get Free Hunger Games Email Updates