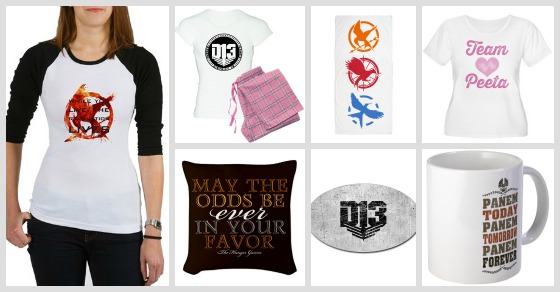 I was just contacted by CafePress about their newly-updated Hunger Games: Mockingjay gift site. They have some really incredible stuff! You can visit the whole Mockingjay Gift site for yourself, or read on for some of my favorite picks. CafePress is really great because they tend to run a lot of coupons on their site (right now they have one for 20% off) and they also ship to many countries.
On with my picks!
Team Peeta
There are no shortage of Team Peeta Shirts. You can get them in just about every color and style. I like black t-shirts so this one appealed to me. But you can also customize them to print on other colors.

Team Peeta Shirt
Mugs
Although they have a lot of different Mockingjay-themed mugs, I tend to like travel mugs better. You can get a lot of the same things printed on either one. I like this one that says "I am the Mockingjay."

Mockingjay Travel Mug
Long-Sleeved Shirts
With the weather getting colder, long-sleeved shirts are more appropriate. They have these in men's, women's, and children's sizes. This "Our Leader the Mockingjay" shirt would be appropriate for just about anyone and comes in black or blue.

Our Leader the Mockingjay Long Sleeve T-Shirt
Pillows and Bedding
If you are looking for some decor items, they have over 90 different Mockingjay-themed pillows you can have customized! Choose from canvas, cotton, microsuede, burlap, or woven. They have some great quotes like "May the odds be ever in your favor" and "You love me. Real or not real?" This one with the emblem on fire is really awesome!

Mockingjay District 13 Fire Emblem Woven Throw Pillow
Journals
With over 30 different journals to choose from and at most of them under $15, these would make terrific gifts for any Hunger Games fan. Choose from logos, Mockingjay emblems, quotes, and more. Use them as a journal, diary, or even school notebook.

Down With The Capitol Journal
There are thousands…maybe tens of thousands of Hunger Games merchandise items on the CafePress site, and probably hundreds of thousands of ways to personalize them all. These were just a few of my favorites. But you can also check out their stickers, accessories, clocks, greeting cards, calendars, iPhone cases, and more. Visit the Mockingjay Gifts page on CafePress.
Get Free Hunger Games Email Updates