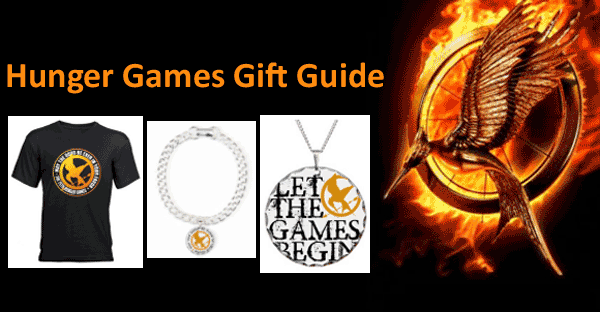 With Christmas coming, everyone is looking for gifts for the Hunger Games Fan in their life, and we have found some of the best!
Gifts on CafePress
CafePress is the first place to start if you are looking for Hunger Games gifts of any kind. They have such a huge selection of both official Catching Fire merchandise and fan-made merchandise that you could find thousands of different gift ideas in every price range. Most of them are even customizable. All of them are unique so chances are pretty good that whoever you are buying for does not already have them.
Click here to jump straight to the CafePress Hunger Games gifts or continue to check out some of our favorites.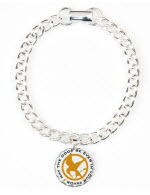 May the Odds Be Ever in Your Favor Bracelet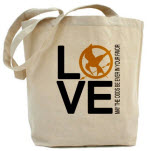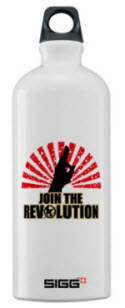 Join the Revolution Sigg Bottle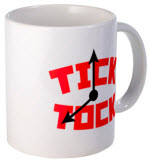 You get the idea! Lots of really unique Hunger Games merchandise from bags to mugs to jewelry.
Hunger Games Shirts
Although CafePress also has a lot of really great Hunger Games t-shirts, another one of our favorite places to get them is RedBubble.
From CafePress:
Some of our other favorites Hunger Games shirts from Cafepress include:
Hope is stronger than fear
Keep calm and let the games begin
District 12 tribute
Mrs. Gale Hawthorne
Or how about these fan-made shirts from Redbubble?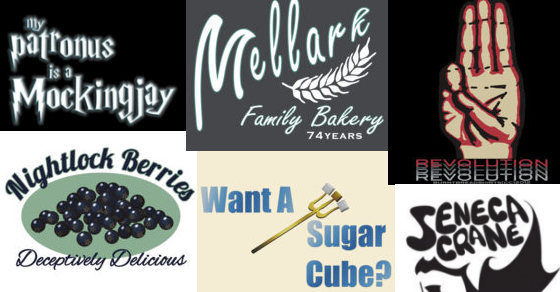 Some of our favorite shirts:
where's finnick? Odair He Is
Want a Sugar Cube?
My Patronus is a Mockingjay
Team Seneca Crane's Beard
Nightlock Berries: Deceptively Delicious
Quarter Quell: 75 Years of Capitol Bliss
Cinna Told me to wear this
That is Mahogany!
Hunger Games Books
In addition to the regular Hunger Games trilogy of books, there are some other official and unofficial Hunger Games books that fans would love. The best place to find all of them is on Amazon.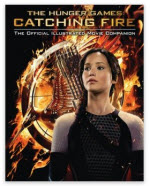 Catching Fire: The Official Illustrated Movie Companion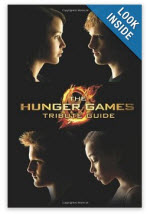 Catching Fire Makeup from CoverGirl
The Hunger Games makeup that was released for Catching Fire is starting to sell out, so if you want it, you will have to find it quickly. It definitely would make great stocking stuffers. Prices start at about $4 so you could end up getting 2 for as little as $6 depending on what you choose.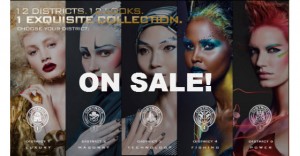 Choose from favorites like:
Flamed Out Shadow Pot Red-Hot
Queen Collection 1 Kit Eye Shadow
Lip Perfection Lipstick Burn 290
Queen Collection Vivid Impact Eyeliner Pencil Cabernet
Flamed Out Shadow Pencil Ashen Glow Flame 335
I've seen it at Kroger, Target, CVS, and Walgreens. If you are looking to buy online, check Walgreens because they have had it on sale.
Hunger Games Calendars
Calendars never go out of style when they feature characters and scenes from the movie! Plus Calendars.com has some other neat products to go with them.

Hunger Games Catching Fire 2014 Wall calendar

The Hunger Games She's a Survivor 1000 Piece Puzzle

The Hunger Games District 12 Board Game
ThinkGeek Odds and Ends
ThinkGeek has a couple of REALLY unique Hunger Games gifts that might appeal to the person on your list who has everything.

The Unofficial Hunger Games Cookbook

The Hunger Games Replica Training Shirt
Hot Topic Licensed Items from Catching Fire
We put these toward the end because even though they are very cool, Hot Topic tends to sell out of them quickly. It's all licensed merchandise from Catching Fire, which means that when it sells out, it is gone for good.

The Hunger Games: Catching Fire Mockingjay Tin Lunch Box

The Hunger Games: Catching Fire Finnick's Shell Necklace
Hunger Games Gift Cards
If you aren't sure what to get someone, consider Hunger Games themed gift cards:

The Hunger Games: Catching Fire $25 Gift Card
Redeem this card online, over the phone or at any Hot Topic store.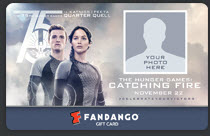 Fandango Gift Cards with Catching Fire Theme
Can be used to buy tickets for any movie on their site
That's probably just the tip of the iceberg when it comes to Hunger Games related gifts this year. With the release of the second movie, merchandising went crazy. If you are looking for something else, let us know and we will try to find it!
Get Free Hunger Games Email Updates