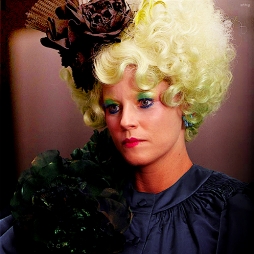 If you are looking to pull off the Effie Trinket look, you know that you need bright colors and high fashion. But more important than anything is the hair! Since most of us do not have poofy blond curls, we need a wig to do it right. I found a perfect wig at Costume SuperCenter. It's called the "Chaperone Wig" on their site, but we know who it really looks like. Check it out:

Chaperone Wig Adult
The Chaperone Wig Adult is perfect for many different costumes. This 1940s style up do wig features blonde curls and side bangs. The wig also includes a black flower accessory.
Plus you can stock up on all of your costume needs and save when you use code SAVETEN to take 10% off a $60 purchase at Costume Supercenter. Want free shipping? Get free shipping on purchases of $60 or more with code FREE60.
What do you think? Would this help complete the perfect Effie look for a Hunger Games party or the Catching Fire movie release?
Get Free Hunger Games Email Updates