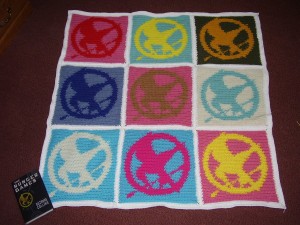 We are always on the lookout for unique Hunger Games merchandise and were lucky enough to stumble upon some great work by Shylah from Upstate New York. We interviewed her via email last week to learn more about how and why she got into creating Hunger Games inspired items such as jewelry and blankets. We've also included some links so that you can check out Shylah's work for yourself.
How did you first get inspired by Hunger Games?
"I have a Masters degree in adolescent literacy, so I read a lot of YA books.  In my final semester, my professor assigned us The Hunger Games, and I was hooked.  I have a background in History and Political Science, and the dystopian world that Collins portrayed (although fantastical) felt extremely real and current.  I blew through the books—like many people I couldn't read them fast enough!  When I finished Mockingjay I was floored.  I was so moved by the depiction of war and the realness of the struggle and sacrifice that I just couldn't bear to let the story go."
How did you start designing your art?
"I am married to a real life artist—he's got a shiny degree and everything—so I don't kid myself into believing that I can draw or paint or sculpt.  What I can do is needlework.  I started designing patterns based on the books.  My first project was the Mockingjay Pin Pop Art Blanket:
http://shywalker.deviantart.com/gallery/28501500#/d38awfw
Next, came the District by District Blanket:
http://shywalker.deviantart.com/art/District-by-District-Blanket-199026775
I've done some HG inspired crochet jewelry:
http://www.etsy.com/shop/ShylahStitches?section_id=7935205
And then, at the announcement that we got the phenomenal Jennifer Lawrence as our Katniss, I dusted off my ancient version of photoshop, and did a couple of mockups of what the audience at home might see of the Games:
http://shywalker.deviantart.com/#/d3bv4te
http://shywalker.deviantart.com/#/d3bvr21
While there are many FAR MORE TALENTED digital artists, I had a blast creating the faux-news  headlines and tickers (my inner CNN junkie we wild).  I'm just astounded at how far the pictures have traveled!"
What can we expect from you in the future?
"I hope to continue to create more art in each area.  I'm working on a new blanket based on the cover of Mockingjay, waiting on some new beads to arrive to start on some Peeta and Rue themed pieces, and as soon as we get more casting information, I am definitely planning on doing some more digital "news" pieces.
Originally, I was inspired to make Hunger Games art by the power of the books, but in the last few months, it has really been the amazing response of the fandom that has kept my creativity flowing!  I have received so much support and feedback from across the web, that I feel like I'll be crafting in Panem for a long time to come!"
Thanks so much for sharing with us. Shylah!
Get Free Hunger Games Email Updates