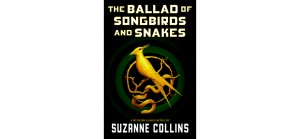 Scholastic has just announced a new Hunger Games book entitled "The Ballad of Songbirds and Snakes." The book is due to be released May 19, 2020. When news was first released about the book, it was being called "Untitled Panem Novel." What do you think the name indicates?
I can't believe after all this time that we are finally getting a new book!
The book is actually a prequel to the other Hunger Games books, meaning that it takes place 64 years before the other books. It will feature the 10th Hunger Games, many years before Katniss, Peeta, and Gale. This time period is 10 years after "The Dark Days," or the war that destroyed Panem and resulted in the country as we know it in the Hunger Games trilogy.
Lionsgate had previously teased us that there might be other movies in the works, but that could have happened even without a new book release. We're excited that Suzanne Collins will still be behind the series.
Take a look at the cover above. The press release states that the cover captures the "inner and outer" conflict that lies at the heart of the book. "The mockingjay has returned, but at a new angle…which is very much in line with the story that Suzanne Collins is telling."
We'll update with more information as we get it!
{ 0 comments }