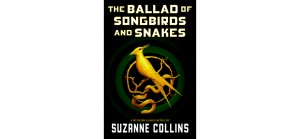 Edited: The book is now on sale!!
Scholastic has just announced a new Hunger Games book entitled "The Ballad of Songbirds and Snakes." The book is due to be released May 19, 2020. When news was first released about the book, it was being called "Untitled Panem Novel." What do you think the name indicates?
I can't believe after all this time that we are finally getting a new book!
The book is actually a prequel to the other Hunger Games books, meaning that it takes place 64 years before the other books. It will feature the 10th Hunger Games, many years before Katniss, Peeta, and Gale. This time period is 10 years after "The Dark Days," or the war that destroyed Panem and resulted in the country as we know it in the Hunger Games trilogy.
Lionsgate had previously teased us that there might be other movies in the works, but that could have happened even without a new book release. We're excited that Suzanne Collins will still be behind the series.
Take a look at the cover above. The press release states that the cover captures the "inner and outer" conflict that lies at the heart of the book. "The mockingjay has returned, but at a new angle…which is very much in line with the story that Suzanne Collins is telling."
Ambition will fuel him.
Competition will drive him.
But power has its price.
It is the morning of the reaping that will kick off the tenth annual Hunger Games. In the Capitol, eighteen-year-old Coriolanus Snow is preparing for his one shot at glory as a mentor in the Games. The once-mighty house of Snow has fallen on hard times, its fate hanging on the slender chance that Coriolanus will be able to outcharm, outwit, and outmaneuver his fellow students to mentor the winning tribute.
The odds are against him. He's been given the humiliating assignment of mentoring the female tribute from District 12, the lowest of the low. Their fates are now completely intertwined — every choice Coriolanus makes could lead to favor or failure, triumph or ruin. Inside the arena, it will be a fight to the death. Outside the arena, Coriolanus starts to feel for his doomed tribute . . . and must weigh his need to follow the rules against his desire to survive no matter what it takes.
{ 0 comments }