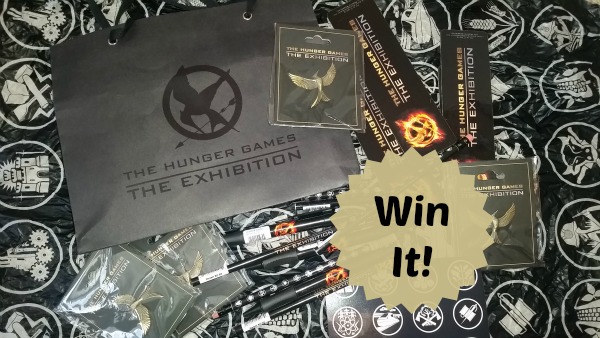 Shortly after it opened, we were lucky enough to be able to visit the Hunger Games Exhibition in New York City. We spent hours in there interacting with the exhibits and taking pictures. In addition, we got some great Hunger Games Exhibition merchandise to give away to our readers! Keep reading to see some of the great shots that we got plus how you can enter to win a Hunger Games Exhibition Prize Pack.
Hunger Games Exhibition Review
We attended the Exhibition on only the second day that it was open, so it was a little bit rocky. The employees had a hard time with things like getting our pictures in front of the green screen and couldn't answer all of our questions about the Mobile Guide. In fact, we ended up paying for it even though it was supposed to come free when we bought our ticket with our American Express Card and even then we couldn't use all of the features of it.
That said, it was only the second day. And the problems we experienced were more than likely cleared up with a little more experience. It definitely wouldn't stop us from recommending it! As for the Mobile Guide itself, it definitely added to the experience by "unlocking" certain hidden features throughout the Exhibition.
The actual exhibits ranged from educational to just plain breathtaking. They used a lot of elaborate projections and screens to make you feel like you were right in the middle of the movies. Here are a couple of my favorite "scenes" from the Exhibition: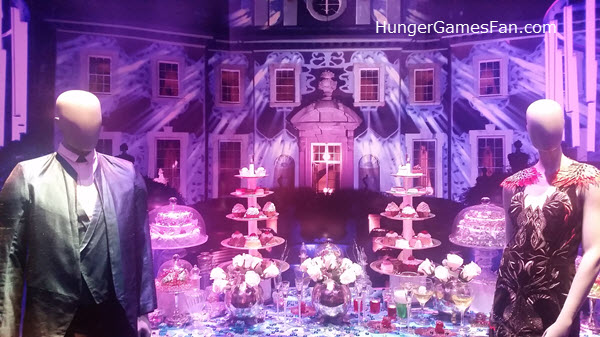 This scene shows the absolute over-the-top excess of the Capitol. You can see all of the bright colors and the massive buffet filled with food and drinks.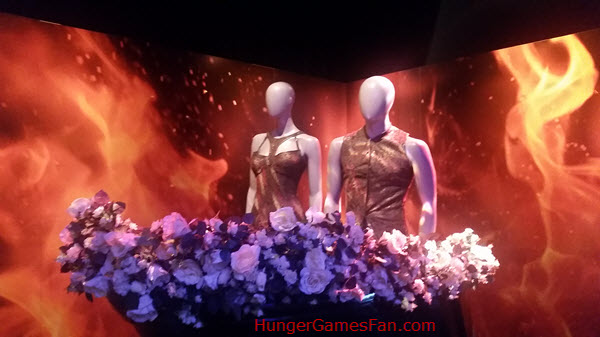 One corner of the Exhibition featured a life-size "Girl on Fire" scene from the movie. You can get a good sense of the costumes as well as the flowers and the chariot. And the fire seemed so real!
There were also a number of interactive areas where you could learn about some of the science behind The Hunger Games and take part in experiments. They even had a "training" area where you could learn how the actors trained for the movie.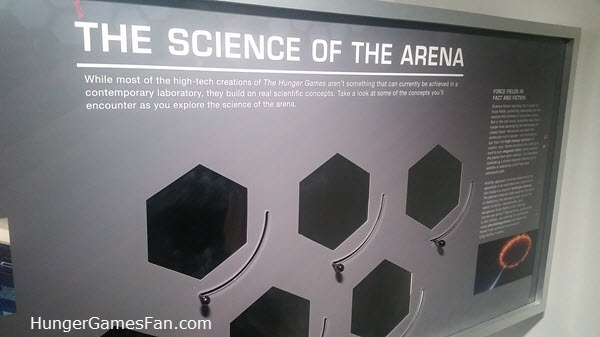 At the end there was a section of costumes from the Hunger Games movies, mainly those that Katniss wore. You couldn't get incredibly close to them, but definitely close enough to get pictures. How gorgeous is this?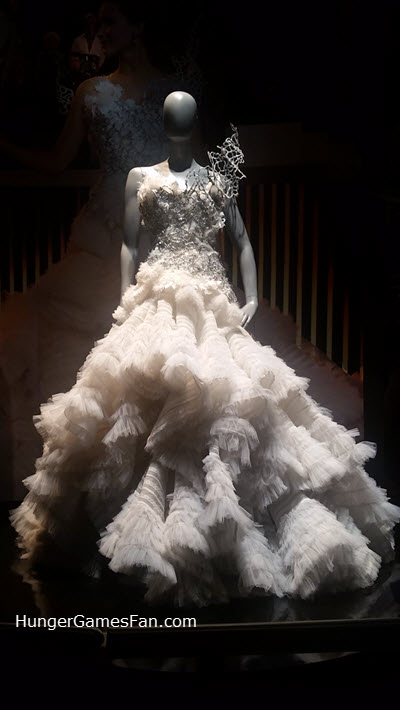 We probably spent about 2.5 hours in the Exhibition, although I think we could have even spent more. Definitely try to go when it is not as busy because it's harder to get pictures and fully participate in the interactive parts as it gets busier. We found that it got busier as the morning went on.
Hunger Games Exhibition Giveaway
Now that you've had a taste of what you might see at the Exhibition, how would you like to win some of the souvenirs we brought home? We're going to select 5 items from all of the things we brought back to send to one lucky winner. We've got pens, pencils, postcards, bookmarks, and even the newest Mockingjay Part 2 pins.
Enter using the widget below and get extra entries for referring friends. We're only running the contest for 2 weeks, so enter quickly! And don't forget to sign up for our newsletter to be kept up to date on all Hunger Games news and our next contest.
Hunger Games Exhibition Giveaway

{ 4 comments }