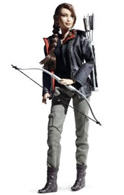 We just got word that the Katniss Everdeen Hunger Games Barbie Doll by Mattel is on sale at Rakuten today. Normally $34.95, they have it on sale for $32.99 but you can also use promo code KATNISS and they will take $3 off. That makes the final price only $29.99. The sale includes free shipping.
This is the lowest price that we are seeing anywhere and they are selling them like crazy. Sales are up 2805%!
The doll features Katniss in her original Hunger Games outfit, complete with bow, arrows, quiver, and Mockingjay pin. Visit Rakuten now to take advantage of this great deal!
{ 0 comments }