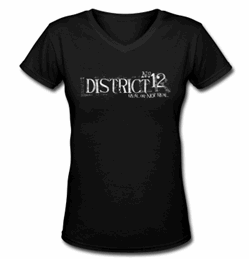 Amazon has a whole slew of new Hunger Games shirts, some of them official Hunger Games merchandise and some of them not. Most of the official merchandise is still on pre-order, but it will be shipping in about a week. When I did a search today, 209 shirts were returned in the results!
Here are some of our favorites:
Hunger Games Peeta Shirt (of course!)
Hunger Games District 12 Shirt
Team Peeta Shirt
Hunger Games Opening Games Shirt
I Love the Boy With the Bread Shirt
Green May The Odds Be Ever in Your Favor Shirt
In addition to these you can get shirts with Rue, Haymitch, and Gale, Prop Replica Training Shirts, Team Finnick, and more.
Check out all 200+ Hunger Games shirts at Amazon.
Which are your favorite? Tell us below!
Get Free Hunger Games Email Updates