One of the essential elements of a Katniss costume from the Hunger Games is a bow and arrow: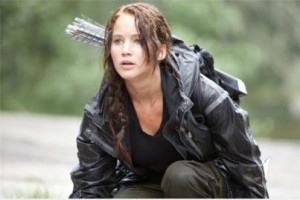 Most of us do not have a bow and arrow sitting around and if we did, it would be pretty dangerous to use for a costume. So we found some great sets at our favorite costume stores:



Bow and Arrow Set

Disney Pixar's Brave Bow and Arrow for Girls
This accessory features a bow and two suction cup toy arrows. The bow measures 19 inches long and each arrow is 9.5 inches long! This toy gives a great effect to the look and is a safe toy!
These bow and arrow sets would be a perfect addition whether you are looking for a Katniss costume for Halloween, a school project, or a Hunger Games book or movie party.
Get Free Hunger Games Email Updates