Everyone has been asking me where I got my Hunger Games shirt, and unfortunately CafePress isn't selling it anymore. The good news is that the new CafePress Hunger Games merchandise has finally arrived! I can't post them all because there hundreds of new shirts as of today, including short sleeve, long sleeve, polos, and maternity. But I'll post some of my favorites. You can see all of the rest on the CafePress Hunger Games site.

May the Odds Be Ever In Your Favor Mockingjay Shirt
Team Peeta Shirt

Down With the Capitol

Parachute Sponsor Gift Shirt

Stylist Cinna Shirt
I Volunteer Shirt
Team Gale Shirt
There are so many things that I love about CafePress. You can choose from different shirt styles and sizes, they are always running specials, and they ship internationally. Check out all of the new official Hunger Games fan merchandise at CafePress!
I have also found some really cute Hunger Games shirts on Spreadshirt. You have to search around a bit on their site using terms like "Peeta" and "Hunger Games," but you should be able to find most of them. Most of them can be personalized a little bit too–like printed on different colors of shirts.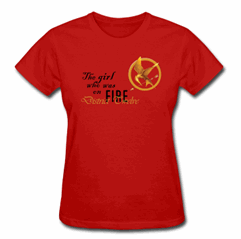 The Girl Who Was on Fire: The Hunger Games (Women's Standard Weight T-Shirt) Sizes S-XXL, 9 colors ($16.40 as shown but can be customized)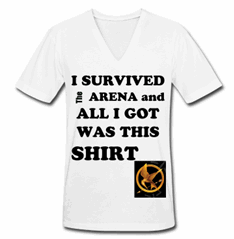 I Survived the Arena and All I Got Was This Shirt (with Mockingjay logo) Unisex V-Neck T-Shirt by American Apparel, Sizes S-XL, 6 colors ($32.90)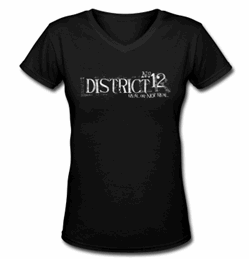 District 12 Hunger Games Women's V-Neck Tee Sizes S-XL, 3 colors ($20.40 but can be customized)
A few of the other shirts on there include "Are You Game?", "Cake Decorating Saves Lives," "May the odds be ever in your favor," and "District 13." Visit Spreadshirt to see them all.
Get Free Hunger Games Email Updates